"All of us are called – each in our own way – to follow and to serve. All of us are called – each in our own way – to be made new in Christ – and to allow Christ to speak through us, to allow God to act within us and to reach out and touch others using our hands – our hearts – our words."
Rev. Jim Jones
Sermon, January 25, 2015
Christ Church has Ministry Teams – not committees, commissions, etc. – that carry out God's work in our parish. Please visit the pages under the "Ministries" tab to read about all the important work being done through the Ministry Teams in the parish, the local community, and beyond.
---
We ask God for grace and faithfulness to continue our efforts to love, serve, recognize, respect, and care for every person in the world – particularly those who are wounded, broken, or suffering. Please join us in having "one foot in the church and the other in the world."
CHOW Food Pantry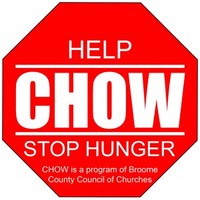 Our CHOW Food Pantry provides food to needy local residents. In 2014, over 920 people were served – on average, 77 per month. Our pantry receives a monthly delivery from the CHOW warehouse, varying in amounts from month to month. Additional groceries are purchased with Christ Church CHOW Pantry funds, and supplies are supplemented by donations of food and personal care items from members of the parish. Several dedicated volunteers make it possible to operate this pantry. If you are interested in joining them (you can commit to as little as 2 hours per month), please contact Phyllis Russell or Steve Yeager, CHOW Co-Coordinators.
The Clothing Closet
The Clothing Closet distributes free used clothing to anyone who needs it, relying on donations from members of the parish and community. Our budget may be low, but the generosity of donors is high! The Clothing Closet is open when the CHOW pantry is open, as well as the first Saturday of each month. In 2014, over 690 people visited the closet. If you would like to help staff the closet, please contact Rick Pescatore. Donations can be dropped off at the church during office hours or on Sunday. Clothing for all ages and all sizes is welcome and needed.
Canteen at Trinity Church – Feeding Those in Need
The Canteen community lunch program provides a hot meal at Trinity Memorial Church each Sunday at noon. In addition, bagged suppers are given to Canteen guests as they leave the meal. Between 80 and 100 people are served each week. Trinity Church hosts and oversees the program, and many community groups participate. Members of the Christ Church congregation will cook and serve a meal approximately 6 times a year.
Volunteers meet at Christ Church at 10:00 AM the Saturday prior to each date to prepare the meal that is then taken to Trinity.
At 10:30
AM on Sunday morning, the team gathers at Trinity to set the tables, prepare bagged suppers, serve the meal, visit with guests, and clean up afterward.
If you are interested in helping out, please contact Rick Pescatore.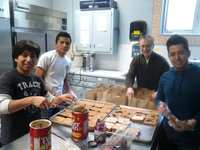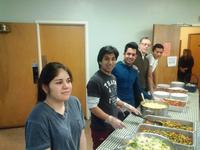 Mission Work – St. Elizabeth School in Timau, Kenya
The congregation supports District Deacon Dorothy Pierce's ongoing mission work with the children of St. Elizabeth School in Timau, Kenya – through love, prayers, and financial gifts. This literally saves the lives of children and families. Deacon Dorothy traveled to Kenya in September 2014 and saw the difference it's making. If you can support this mission in any way, please contact Deacon Dorothy.
---
The fellowship ministry is a vital part of Christ Church, extending hospitality through beverages, snacks, and meals to encourage fellowship. The Fellowship Ministry:
Purchases and keeps supplies available for coffee hours, pot luck suppers, and other events where refreshments are served
Hosts coffee hours after worship services
Hosts brunches and pot luck meals during parish events
Organizes the Pancake Supper/Mardi Gras celebration on Shrove Tuesday
Assists with Sacred Sites open houses
Plans, organizes, and provides food and supplies for the Parish Picnic
Maintains and decorates the awesome bulletin boards in the Great Hall
Cleans, organizes, and maintains the kitchen and pantry
Thank you to everyone who bakes, cooks, cleans, serves, and cleans up – as well as to those who support the ministry financially through the collection basket. You keep the fellowship mission alive and thriving!
Participation in fellowship activities is needed and welcome! Please contact Barb Stanton or Sue Sarzynski, Ministry Co-Chairs.
---
The Stewardship Ministry encourages our church family to become grateful, responsible stewards of all the gifts we receive from God. The Episcopal Church sees stewardship as more than simply contributing money to the church; it's also about contributing time and talents, and volunteering for ministry and mission. It's about reaching out to build relationships from a perspective of abundance instead of scarcity.
The Stewardship Ministry:
Carries out the annual stewardship campaign
Tracks pledges and campaign results
Ensures that stewardship is not just an annual focus through year-round activities
Acknowledges gifts and thanks people for their contributions
Engages guests to preach about stewardship
If you would like to help with this important ministry, please contact Diane Button or Connie Alford, Ministry Co-Chairs.
1 Corinthians 4:2
"Now it is required that those who have been given a trust must prove faithful."
---
The youth of our church participate in many activities throughout the year to enhance their Christian education and formation – performing the annual Christmas pageant, assisting at parish events, doing community outreach, enjoying fellowship activities, and much more.
---
What do we believe?
God's love is for all people.
Doubt and questioning are important pieces of the spiritual journey.
Authenticity is the key to spiritual growth.
We make sense out of our lives and find hope by immersing ourselves in scripture and engaging in conversation about our experiences of God. We strive to make connections between the stories of Jesus and our lives today.
In times of struggle, pain, and confusion, our lifeline is our friendship with God and with one another. In times of joy, clarity, and hopefulness, we give thanks for God's presence among us.
What does worship look like?
We worship in the lounge at Christ Episcopal Church (when you enter the building from the Water St parking lot, go up the stairs and you find the lounge on the right)
We read scripture from a modern English Bible
Our worship is contemplative: we use soft music and quiet reflection
After reading scripture, we have a conversation about what we've just heard. Those who wish to may share reflections or questions. No one is put on the spot.
We have adapted traditional Episcopal worship to include uncomplicated language and prayers that are relevant to our lives in the 21st Century
On the second Wednesday of each month we share Holy Communion and a potluck dinner

A sample of our service
---
The dedicated women (and a few men!) of St. Margaret's Altar Guild serve God in His church by preparing the altar for worship services and occasions such as weddings, funerals, and baptisms. They perform a "behind the scenes" ministry so that we may worship and glorify Christ. Members polish and maintain the brass and silver, wash and iron linens, set out the wine and bread, wash the marble floor, and prepare the candles. Through the generosity of some of our parishioners, new Fair Linen was purchased for the altar in 2014. It is beautiful – so white and crisp!
We are always looking for individuals who are looking to serve the Lord in a quiet but meaningful way. As the saying goes, "many hands make light work." If you feel called to serve in this ministry, please contact Shirley Simeck.
---
The Welcome Ministry makes parishioners, newcomers, and visitors feel welcome at Christ Church through its activities:
Actively and warmly greeting people and offering assistance
Maintaining a welcome table and pew cards
Providing welcome bags for newcomers and visitors
Contacting those who submit completed pew cards and request the contact
Sending thank you notes to visitors who provide their mailing address in the Guest Book
Scheduling the Sunday service ushers
Hosting coffee and snacks at events
Collaborating with other ministry teams on communication and outreach activities
Participating in community events to represent Christ Church
Charlie Babcock is the leader of the Welcome Ministry Team – contact him if you'd like to join this vital ministry team! (You can find him in or around "Pew 33" on Sunday morning!)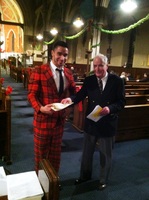 ---
The dedicated team members of the Historical Ministry serve as stewards of the rich history of Christ Church. The Historical Ministry:
Documents and preserves historical information about the church
Conducts tours of the church
Participates in the Preservation Association of the Southern Tier (PAST) Open House events featuring churches and synagogues in the Triple Cities
Fulfills requests for historical information about the church and past Rectors from individuals, groups, and the media
Assists individuals seeking genealogy information related to the early days of the church
We are in need of more people who can learn the church history to give history tours. We also need volunteers when we have large or small groups here for tours as greeters.If you are interested in joining us, please contact Sue Sarzynski.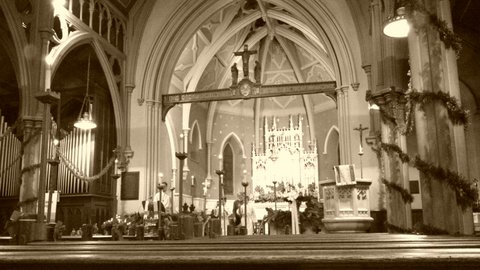 ---
The Chimer's Guild plays the bells for each Sunday service, as well as funerals and special days such as Veterans Day and 9/11.
We were very pleased and proud of the article in the Binghamton Press in May 2014 featuring the chimers and the bell tower. Our bells are unique among church bells in this area and across the country in that they are played by hand and not electronically. The only other bells that we know of in the area that are played by hand are bells in St. James Church in Johnson City and the Methodist Church in Endicott.
Beginning chimers are welcomed! We would be happy to show you how the bells are played and give you instruction. If you'd like to try it out, please contact Sue Sarzynski.
---
The Property Ministry is responsible for ensuring that our beautiful historical buildings are properly maintained. In the past few years, we have upgraded the heating system, replaced the back exterior door, replaced the Great Hall windows, installed a new security and fire alarm system, and installed new EMS lights in hallways. Next we will be replacing new gutters on the church, with work expected to begin in spring 2015.
To get involved with this ministry, please contact Mary Olshefski, Property Ministry Chair.
---
St. Fiacre's Gardening Guild meets from April through November to ensure maintenance of the beautiful grounds surrounding the church and Great Hall. Planting, pruning, trimming, and weeding keep members busy from spring through fall – and they have a fun time doing it! Annual spring and fall clean up days require all hands on deck! If you'd like to help, please contact Sue Sarzynski. No green thumb required!
---
The Worship Team meets with clergy on a regular basis to plan and coordinate the various aspects of worship services. They elicit and communicate feedback from the congregation. Representatives from the Choir, Altar Guild, Eucharistic Ministers, Readers, and members of the congregation participate and offer any necessary assistance to the clergy.
If you feel called to help with this important aspect of spiritual life at Christ Church, please contact Lettie Trevarthan.